Ainfox 10*12 Double Roof Iron Gazebo,With Classic Thin Mosquito
Description:
Ainfox 10*12ft patio gazebo has elegant appearance with two tier tops. The thin Mosquito protect you from bites. Providing a cozy shaded space for relax in summer. Become a First-selected place for friends and families to gather for parties, games, conversations. The gazebo is supported by powder-coated aluminum frame to have a strong foundation. And the double-roof is made of Galvanzied steel plates, Which is waterproof and UV protection. Very durable, stable and safe. 
Features:
【Year Round Usage】The frame is made from powder-coated aluminum material. It can withstand harsh weather conditions for all seasons.
【Galvanized Steel Roof】Double-roof is all made from galvanized steel plates. It provides protection from the sun and a safe place from the rain. The angled design also make rain and snow fall faster with smooth surface.
【Mosquito Net】 The mosquito net is made from Mesh material that can allow you to enjoy being outdoor without getting bothered by mosquitoes. This feature also prevents excessive wind, so that people can enjoy the gatherings or relaxing times without too much wind blowing onto faces.
【Double-Roofed Hardtop】 The additional hardtop allows more air circulation to make people feel the breeze even when the mosquito net is used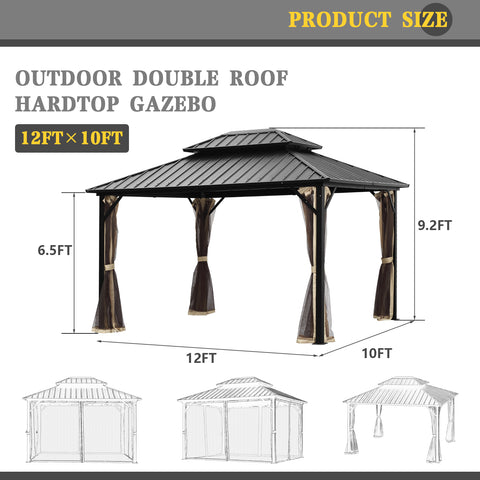 Specifications:
Color: Black Metal
Product Dimension: 10*12ft
Material: Galvanized Steel/Powder coated aluminum
Mosquito Net Material: Mesh material, 4 pieces in total
Package Dimension: 239.37" (L) x 73.62" (W) x 17.72" (H)
Net/Gross Weight: 238.10/262.79lbs
Note: This product include 4 packages.
Shipped by LTL.